THE STORY OF PEKING OPERA
节选
[
《京剧的故事(英文版)》内容简介:For westerners, Peking Opera is a kind of oriental art that is either ancient or mysterious. The magnificent stage colors and vigorous martial movements have become a symbol of Peking Opera, winning admiration from audience across the world. Yet these extensive and warming scenes arc not all about Peking Opera. As the representative of the Chinese traditional operas, Peking Opera covers every aspects of the Chinese classic culture. Due to the impediment of language and cultural background, it is difficult for Western audience to further understand the connotation of Peking Opera.This book includes 10 classic Peking Opera plays as examples to introduce and explain the performance skills, stage attire, as well as the historical background of the plays, the humanistic spirit they convey while describing the plot of the plays. It enables western readers to learn the stories of the plays, understand some common knowledge of Peking Opera performance while reading the book. Through these Peking Opera plays, they can gain their primary cognition of theChinese traditional culture.
]
相关资料
[
插图:His game without needing to worry that someone might stophim.As Zhao Wu stepped into the mausoleum,he ran intoZhuang Ji,who was there to pay homage to the King.ZhaoWu found that the wild geese had fallen into the hands ofsome attendant of Zhuang Ji.Seeing Zhao Wu,Zhuang Jicould not refrain from missing her son,thinking that if hewas still alive he should be about the same age as this younggeneral and be able to draw a bow and shoot wild geese.Asshe thought,tears streamed down her cheeks.Seeing herweeping,Zhao Wu was puzzled.Zhuang Ji replied that sheused to have a son and if he was still alive he should also be15 years old,unfortunately he had died young,and that herchance encounter wi Zhaoevoked her memories of thepast.She further asked Zhao Wu which minister was hisfather.Zhao Wu said that his own father did not hold any official post,but his adoptive father was Tu Angu,the minis-ter ofjustice.Hearing that Zhao Wu was son of Cheng Yingand adopted son ofTu Angu,an uncontrollable rage rose fromthe heart of Zhuang Ji,she ordered her servants to drive him away.Zhao Wu did not know why Zhuang Ji had burst into such a rage at hearing his words and had to leave the mausoleum,intendifig to figured out the reason with hisfather. At this time,Cheng Ying was working on a painting at home about how the entire Zhao family met with the catastrophe and how he and Gongsun Chujiu tried to save the orphan.Upon returning home Zhao Wu told Cheng about his chance encounter with Zhuang Ji at the mausoleum and her anger.Hearing this,Cheng drew a deep sigh and showed.
]
本书特色
[
《京剧的故事(英文版)》是由中央编译出版社出版的。
]
作者简介
[
Wu jiang is the president of China National Peking Opera Company. His main works include a dozen of Peking Opera scenarios of Guan Zhong Becomes Prime Minister, Eight Delicacies Soup, the Story of a Revenging Girl, the Life of Martyrs, Lu River and Yi Mountain,Princess Turandot and Princess Wencheng,TV artistic play A Handful Snow. He has made enormous and effective contributions to the creation of new plays,restoration of out standing traditional plays and cultivating Peking Opera talents.
]
目录
reading ching through peking operaorphan of zhaoa gathering of heroesdragon and phoenix present auspiciousnessthe fourth son visits his motherfemal generals of the yang familythe wild boar forestlegend of the white snakefour newly appointed officialsthe story of yutangchuna jewelry pouch
封面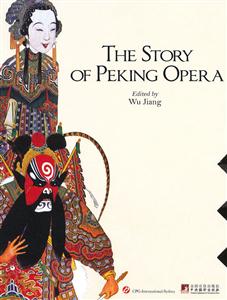 书名:THE STORY OF PEKING OPERA
作者:WU Jiang
页数:236
定价:¥260.0
出版社:中央编译出版社
出版日期:2010-06-01
ISBN:9781921678363
PDF电子书大小:91MB 高清扫描完整版